75 Members of Alleged Human Trafficking Gang Held in France and Spain
---
---
---
A gang that smuggled Chinese citizens into the United States and Europe, forcing some of them to work as prostitutes, has been busted with 75 arrests in Spain and France.
The trafficking ring was directed from China, but Spanish police believe two suspected leaders were among those held in Barcelona.
Policy say they arrested 49 others carrying fake passports at airports in Barcelona, Madrid, Palma de Mallorca and five other cities. There were another 24 arrests in France. The arrests come after a two-year probe.

The smugglers are accused of charging 40,000 to 50,000 euros ($53,000 to $66,000) to transport Chinese citizens to the United States, Spain, France, Greece, Italy, Britain, Ireland and Turkey.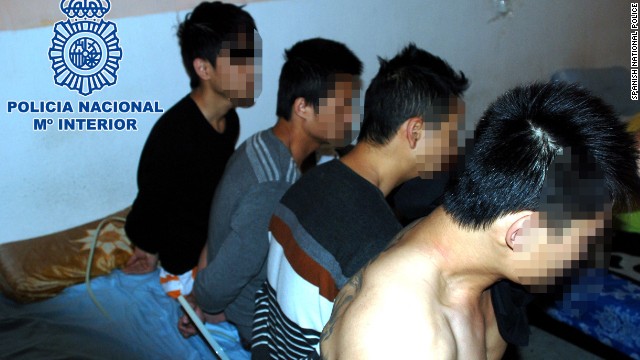 The Chinese were all given false identities. Spain was the next-to-last stop for many before they went to the preferred locations of the United States and Britain.
The arrests were made last June and the case, at Spain's National Court, has been under seal until now, a national police spokesman told CNN.
The suspects are all thought to be from China and they have all had initial court hearings. They have been ordered to remain in prison while the probe continues, though some have been released by the judge with conditions.
During the raids, police seized 81 forged passports, mainly from Japan, Malaysia, Hong Kong, Singapore, South Korea and Taiwan – although they were all made in China.
Investigators also found three laptop computers, printers and 22 rubber stamps used to forge documents at homes the gang used in Barcelona, police said.
Investigators said the trafficking ring was divided into independent and virtually isolated cells to avoid detection.
The traffickers used their own set of trusted travel enforcers, well-versed in the airports and cities where the Chinese were taken.
They kept the travelers under control, sometimes trying to pass them off unnoticed among groups of legitimate Chinese tourists, CNN reports.
Spanish police have been particularly active in recent years in fighting human trafficking rings that lured citizens from Asia, Africa or Eastern Europe to Spain.
The victims are often promised a better life, but then subjected to harsh forced labor conditions in clandestine factories or forced them into prostitution.
Some of the issues raised in this article will be discussed at IDGA's Counter Narco-Terrorism and Drug Interdiction event, which includes a Human Trafficking Focus Day, next month. For full details, go to www.CounterTerrorismEvent.com